News
May 18, 2017
By Jerry Black, Regional Manager I'm quickly approaching two decades working for our company, and I would like to use this opportunity to reflect on a concept I care deeply about: diversity of ideas. Whether you have been with us for a week or 30 years, we can all agree that our company has experienced multiple […]
Read more...
---
May 10, 2017
By Scott Smith, General Foreman Recently, I was reviewing a new jobsite with two of my job planners. I dropped them off on opposite sides of the street to scope out the area, and we planned to meet up at the end of a cul-de-sac. Meanwhile, I received a phone call, so I pulled over. […]
Read more...
---
May 4, 2017
In May, Wright Tree Service (WTS) held its weeklong General Foreman School (GF School). Eighteen field employees gathered at the corporate office in West Des Moines, Iowa, for GF School. Attendees participated in various trainings and presentations to learn more about elements that affect their jobs as employees of the company, such as accounting, safety, risk, […]
Read more...
---
April 13, 2017
The national vegetation management company relies on Ford F-Series models. The trucks offer rugged, easily customizable options and make up the largest portion of the fleet. For Wright Tree Service Fleet Manager Kevin Fitzpatrick, the choice is not whether to buy Ford but which Ford he needs for the job at hand. Operating in 43 […]
Read more...
---
April 6, 2017
Wright Tree Service of the West recently became Gold Shovel Certified. Pacific Gas & Electric (PG&E) launched the Gold Shovel Standard, a first-of-its kind excavation safety program designed to reduce dig-ins and protect PG&E's underground gas and electric system. PG&E developed the Gold Shovel Standard Certification process to ensure that PG&E's hired contractors adhere to […]
Read more...
---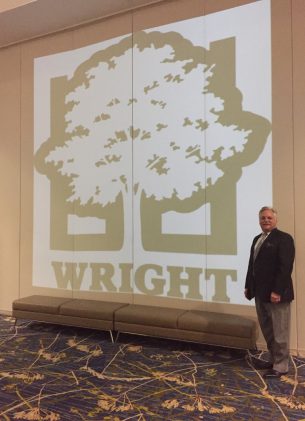 March 2, 2017
As a dedicated partnership and sponsor of the American Red Cross, Wright Tree Service attended the Central Iowa Heroes of the Heartland event on March 2 at the Iowa Events Center. Each year, the American Red Cross of Central Iowa presents awards to local heroes. Heroes of the Heartland acknowledges ordinary people who have done […]
Read more...
---
December 7, 2016
By Curt Hirtzinger, Safety Supervisor As utility line clearance tree trimmers, we are always on call in case of a catastrophic emergency such as Hurricane Matthew. On October 5, 2016, WTS crews from Kentucky, Oklahoma, Tennessee, Michigan and Indiana were dispatched to one of the 11 main staging sites throughout damaged areas along Florida's east […]
Read more...
---
December 7, 2016
Every Wednesday during the Spring Safety Challenge, we highlighted advice from top performing GFs who have gone incident free for many years. We wanted to recognize these individuals for their strong commitment to safety and learn from their tips, tricks and tools of the trade. We have provided a brief description of the messages shared […]
Read more...
---
December 7, 2016
By Ira Signalness, General Foreman, Wright Tree Service There are many factors that come into play for utility arborists. The hazards while working near and around the power grid can make our side of the industry challenging, and in some cases, dangerous if work is not performed properly. One thing I find that never seems […]
Read more...
---
December 7, 2016
By Brian McBrairty, Regional Manager, Divisions 25, 55, and Southeast Division I recently started with Wright Tree Service in August 2016. Prior to joining the team, I worked for a significantly larger company for the majority of my career. As I was making the transition, I knew a lot of the processes and procedures would […]
Read more...
---